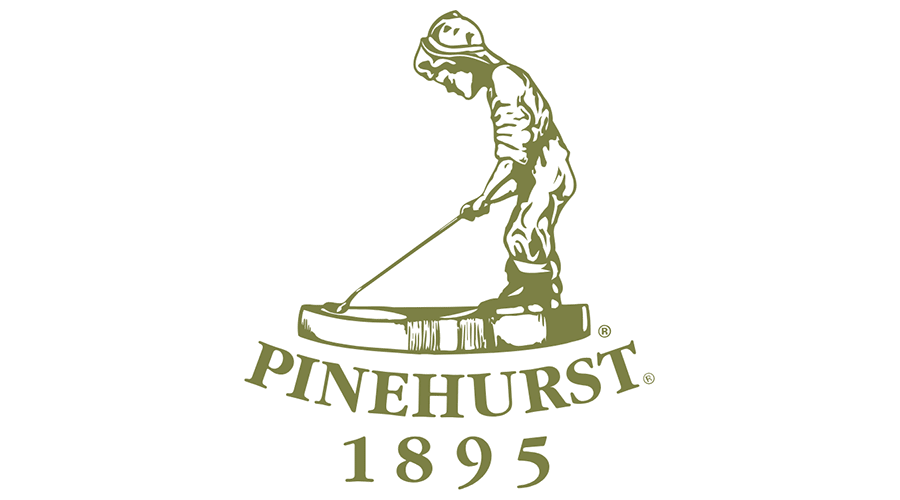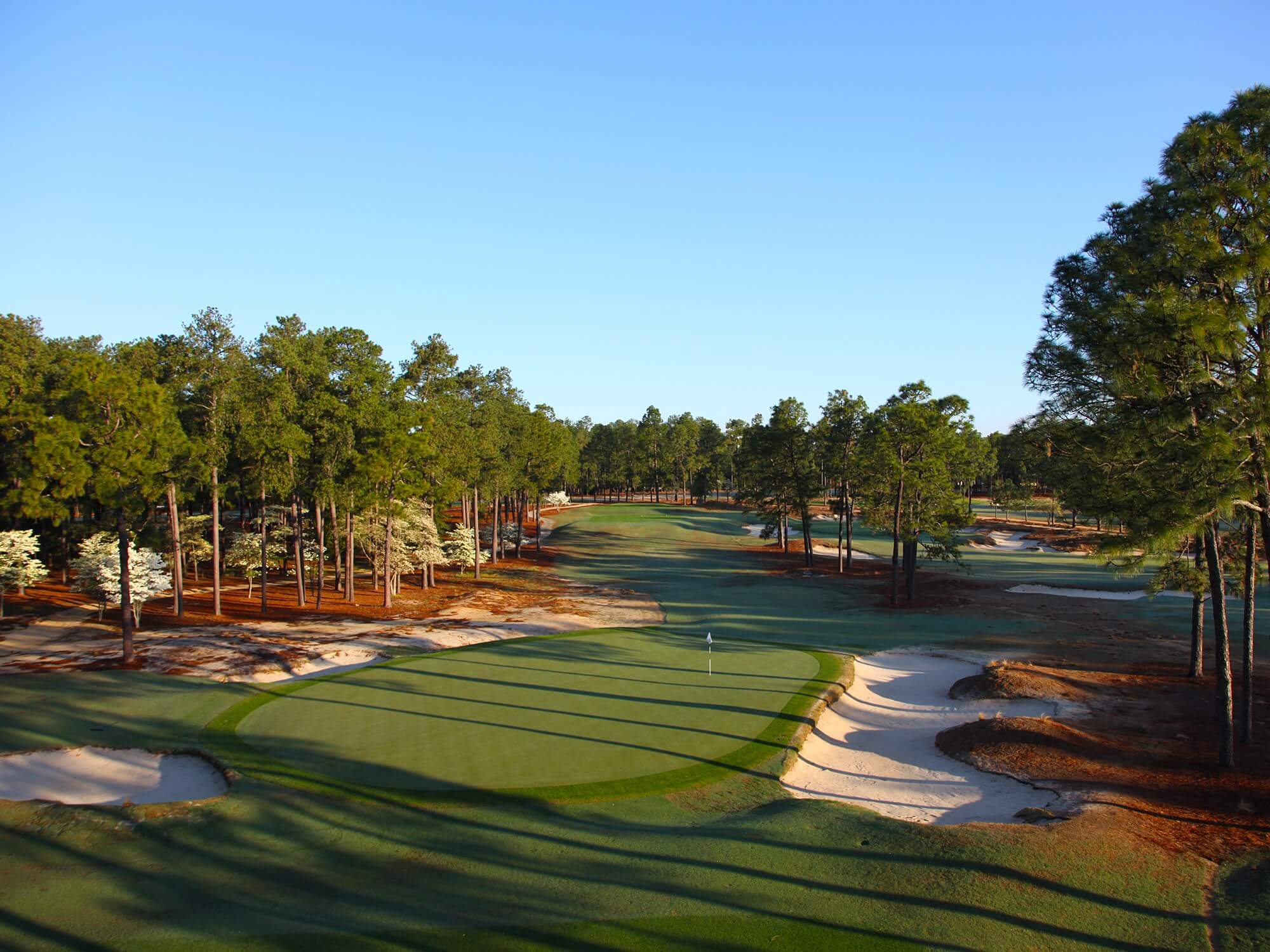 Description
The newly remodeled #2 course at Pinehurst eliminates the penal rough and reintroduces golf's greatest gift and what the area is so well known for; natural sand. The sandhills of central North Carolina are an iconic feature and now line both side of each fairway at Pinehurst #2. The famous dome greens have been softened in places but will play plenty challenging whenever they are dried and firmed up for major tournaments. The facility oozes with tradition reminders including the statue of Payne Stewart celebrating his putt on the 72nd hole in the 1999 U.S. Open.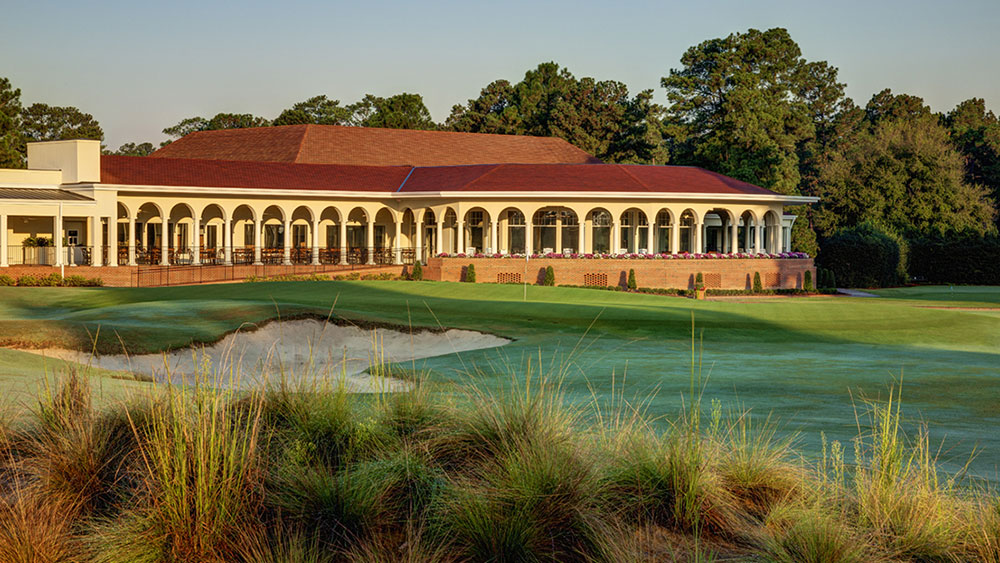 Signature Hole
The 18th hole, a 453 yard par 4. Standing on the final tee at Pinehurst there is a lot going on. There is the emotion of playing the last hole of the day, the challenge of a 453 yard uphill two-shotter, and tons of trouble to find as a massive waste bunker crosses in front of the tee and works its way up the right side. Bunkers provide a wall of defense in front of the elevated green and demand a high, soft approach shot. The 18th hole is a perfect example of what Pinehurst is all about. Demanding, yet fair, tee shots followed up by equally demanding approach shots. #2 is simply a shot makers course, which by #18 you will be well aware of!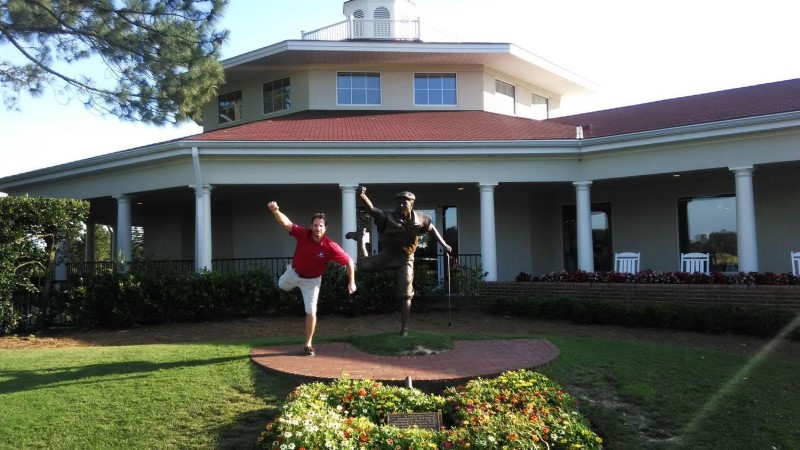 Wegolf Insider Tip
How many know how important Pinehurst has been to US golf? Course #2, designed by Dornoch-born Scotsman Donald Ross, is a golfing masterpiece. Although it is mostly flat, and has no major complications from tee to green, its greens are everything. Locals say that only 40% of the surface of the green will the ball remain if it lands there, that is where the approach should be aimed, and not at the flag. For those who don't have a great short game, it can become torture.
Playable on
MON
TUE
WED
THU
FRI
SAT
SUN
Wegolf Rating
9.0

Course Quality

Condition

Practice Facilities

Clubhouse

Proshop
User Rating
0.0
The good, The Bad
The design. The tradition. The whole resort. The hospitality. You breathe golf in every step you take. And the good kind.
This particular course is pretty demanding. Difficult to score well, especially with the mounds on the greens.